AAA's biggest show of the year and one of All Japan Pro Wrestling's biggest shows of the year takes place in the next few hours.
AAA starts at 8pm Eastern/5pm Pacific. It is free on Twitch here:
https://www.twitch.tv/luchalibreaaa_en
AJPW starts at 2am Eastern/11pm Pacific. They have no network in the US but it should be available to stream free here:
http://www.psp-tv.com/r/PoD
It will also be available tomorrow to watch here:
https://drive.google.com/drive/u/0/folde...TcyaG1SQUk
---------------------------------------------------------------------------
AAA Triplemania Card: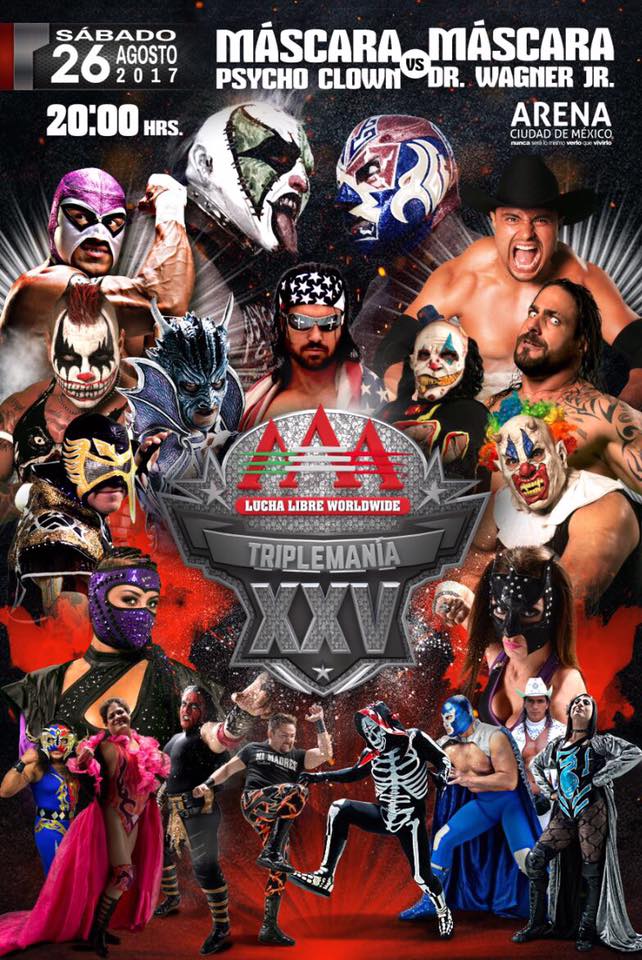 8 Man Tag
Big Mami, Dinastía, Estrella Divina and Máscara de Bronce vs. Hernandez, La Hiedra, Mamba and Mini Psycho Clown
Four-way match for the AAA Reina de Reinas Championship
Sexy Star © vs. Lady Shani vs. Ayako Hamada vs. Rosemary
Four-way match for the AAA World Tag Team Championship
Dark Cuervo and Dark Scoria © vs. Aero Star and Drago vs. Monster Clown and Murder Clown vs. DJZ & Andrew Everett
Some Kind of Team Gauntlet Match - Torneo Triplemanía 25 with Los Vatos Locos and Los Payasos as Lumberjacks
Team Parka (La Parka, Bengala, & Argenis)
Team Relevos Increidible (Faby Apache, Australian Suicide, & Pimpinela Escarlata)
Ex-AAA (Pirata Morgan, Heavy Metal, & Villano IV)
Los OGT's (Averno, Super Fly, & Chessman)
Los Guapos (Scorpio Jr., Zumbido, & Decnnis)
Team GFW (Lashley, Moose, & Jeff Jarrett)
Los Vipers (Psicosis, Histeria, & Maniaco)
Mexican Powers (Crazy Boy, Ñino Hamburguesa, & Lanzelot)
Los Perros del Mal (Joe Líder, Halloween, & Mr. Águila)
Leyendas (El Intocable, Blue Demon Jr., & Luchador Sorpresa)
Three-way Tables, Ladders, and Chairs match for the AAA Mega Championship, AAA Latin American Championship and AAA World Cruiserweight Championship
Johnny Mundo © vs. Hijo del Fantasma vs. Texano Jr
Street Fight
Pagano vs. El Mesías
MAIN EVENT
Best two-out-of-three falls Lucha de Apuestas, mask vs. mask match
Psycho Clown vs. Dr. Wagner Jr.
Quote:The main feud heading into the event was between Dr. Wagner Jr. and Psycho Clown. At Triplemanía XXIV during the Psycho Clown vs Pagano main event match, Dr Wagner Jr ran in to fight off Pagano's stablemates, Nicho el Millionario and Damián 666, only to turn rudo by low blowing Psycho Clown and hitting him with a Wagner Driver. After defeating Pagano, Psycho was challenged to a Mask vs Mask match against Wagner Jr at Triplemanía XXV which he accepted. At the following AAA supercard, Héroes Inmortales X, Dr Wagner Jr defeated Psycho Clown and Pagano in a three-way match after Psycho Clown's tag team partners, Monster Clown and Murder Clown, betrayed him and threw him through a flaming table. In the following months the two competed in a series of six-man tag team matches, tag team matches, and even reluctantly teamed together at Rey de Reyes (2017) to defeat Monster & Murder Clown (who had later attacked Wagner Jr as well) and at Verano de Escándalo (2017) where they successfully defended their masks in a three-way tag team Lucha de Apuestas against Monster & Murder Clown and Soul Rocker & Carta Brava Jr.

Another big feud heading into the event was between Pagano and El Mesías. At Guerra de Titanes (2017), Pagano and Mesías teamed with Dr Wagner Jr to face the team of Psycho Clown, Texano Jr, and La Parka when tensions began to boil between them after Pagano had accidentally hit Mesías several times throughout the match. Despite the tension, the two continued to team with one another and even won the AAA World Tag Team Championships from Dark Cuervo and Dark Scoria on the June 17th episode of AAA Worldwide. After losing the titles at Verano de Escándalo due to another accidental hit from Pagano, Mesías finally snapped and brutally attacked Pagano including multiple shots with a steel chair and a stretcher board. At a press conference for Triplemanía XXV it was announced that Pagano and Mesías would face each other in a Street Fight. Shortly after the announcement, a heated argument at the press conference between the two led to Mesías pushing Pagano and caused staff members to separate them.

At Rey de Reyes, AAA Latin American Champion Johnny Mundo defeated AAA Cruiserweight Champion Hijo del Fantasma and AAA Mega Champion Texano Jr in a three-way match to win all three titles following interference from Kevin Kross, also during the match Texano was taken out of action with an injured neck after Fantasma hit him with a Thrill of the Kill onto a steel chair. At Verano de Escándalo a three-way steel cage match between Texano, Fantasma, and Kross ended without a winner when Fantasma and Texano escaped and touched the floor at the same time. After the match, Vampiro declared that both Texano and Fantasma would receive a shot at the titles at Triplemanía XXV. It was announced at a press conference that the match would be a three-way Tables, Ladders, and Chairs match.
***********************************************
AJPW 2017 SUMMER EXPLOSION Card:
Dark Match: Yusuke Okada vs. Keiichi Sato
Dark Match: Maki Natsumi & Saori Anou vs. Tae Honma & Miyuki Takase
AJPW vs. BJW Tag-Team: Yohei Nakajima & Fuminori Abe [Sportiva] vs. Takuya Nomura [BJW] & Yuya Aoki [BJW]
We start off the main card with an interpromotional clash. A showcase of three of the top prospects in puroresu (and the world, in Nomura's case) with Nakajima playing the role of the veteran keeping things together. Nomura and Abe in particular should bring the fire, as they can be smooth yet crazy stiff. Yuya Aoki is one of BJW's newest recruits, having made his debut back in January of this year, and Yohei Nakajima is an AJPW mainstay and former TV Champion.
Six-Man Tag-Team: LANDS END (Ryouji Sai, Masakodo, & Ishikiri) vs. Multinational Alliance (Sam Adonis, MASSIMO, & Danny Jones)
Ryouji Sai runs the small LANDS END promotion, and here he is showcasing some of his guys against some of AJPW's newest imports, including 'Donald Trump superfan', CMLL star Sam Adonis. Not much to bite into here, but an interesting clash of styles and characters.
Tag-Team: Dory Funk Jr., & Hiro Saito vs. Masanobu Fuchi & The Great Kabuki
Old man feel-good comedy match. This is to celebrate 45 years of AJPW by showing guys who were big in AJPW in the old days (and Hiro Saito) and give us something to gawk at. At worst, it'll be fun.
Battle Royale for the !BANG! TV Title:
Osamu Nishimura © vs. Yutaka Yoshie vs. Abdullah Kobayashi vs. Naoshi Sano vs. Rikiya Fudo vs. Dinosaur Takuma vs. Kazuhiro Tamura vs. Rey Paloma vs. Carbell Ito vs. Atsushi Maruyama vs. Aizawa No. 1 vs. Kotaro Yoshino vs. Mitoshichi Shinose vs. Shota Nakagawa vs. Akiyori Takizawa vs. Great Kojika
!BANG! TV is the name of Dory Funk's wrestling school/promotion. The title doesn't mean much, it gives some guys a spot on the lower end of cards but could provide a few fun moments. Highlights of the match include Great Kojika, BJW's 75 year old founder/promoter; Dinosaur Takuma, a literal dinosaur; obese deathmatch wrestler Abdullah Kobayashi who can't possibly be thrown over the top rope (but that won't stop the rest from trying); and Carbell Ito, who is actually one of AJPW's sponsors who received training and a mask for this opportunity. Worth noting that you do not have to be thrown out to be eliminated, pinfalls and submissions count too.
Singles: Caristico vs. El Diamante
A good lucha showcase. Caristico is the former and the original Sin Cara. Diamante is a former CMLL star, who started working in Mexican indies and went back to doing that after leaving the company in 2015.Both are here in Japan as apart of Ultimo Dragon's 30th anniversary celebration, of which AJPW is apart of in promoting.
All-Asia Tag-Titles: Evolution (Hikaru Sato & Atsushi Aoki) © vs. TAKA Michinoku & Black Tiger VII
Black Tiger recently lost a Jr Title match when he challenged Sato, but he wasn't done with him yet. Though Sato lost the Jr Title to TAJIRI, he still holds onto the All Asia title, of which Black Tiger called upon former Suzukigun stablemate TAKA Michinoku to help him take. TAKA is also celebrating 25 years in wrestling and this is apart of his tour. As mentioned before, Black Tiger was a member of Suzukigun for a brief period in 2012. Whether they call back to that and it goes somewhere remains to be seen; for all we know they just wanted TAKA and NOSAWA on the card, but there is a glowing opportunity to do something.
Grudge Match: Yuma Aoyagi vs. Taichi (Suzukigun)
These two first fought in last year's Super J Cup which ended controversially, as Taichi stopped working with then-rookie Aoyagi and shot on him. Taichi would defend his actions in the press, burying Aoyagi and calling AJPW, the company that spawned and trained him, a "shit" promotion. Certainly the ballsy one, Aoyagi pleaded AJPW and Taichi to grant him a rematch for a shot at redemption and here we are; Taichi walking back into his original home promotion to fight with the young loyal soldier Aoyagi. The heat for this interpromotional grudge match will be off the charts.
Eight-Man Tag-Team: Jun Akiyama, Takao Omori, Koji Iwamoto, and Minoru Tanaka vs. Joe Doering, Zeus, The Bodyguard, and Kotaro Suzuki
What would otherwise be a standard eight-man between eight uppercard talents not doing anything at the moment got flipped on its head; Joe Doering turned on the Evolution stable, attacking his stablemates and leaving the faction. He is teaming with the returning Kotaro Suzuki, who just came back after leaving AJPW while they were near-death in 2015, and the seemingly-aimless Big Guns who recently lost their Tag Titles. This looks like a great multiman match given the talent, but this can also have some major story ramifications given the wildcard Doering and the combination stories and characters going into this.
AJPW World Junior Heavyweight Championship: TAJIRI © vs. Ultimo Dragon
Ultimo Dragon is celebrating his 30th year as a professional wrestler and isn't doing so quietly. After TAJIRI defeated Hikaru Sato last week to win the title, he was approached by Ultimo for a request at a title shot at AJPW's biggest show of the year. TAJIRI obliged. Both guys have worked together over the years, so they know each other and it should be a very good bout. Both guys work better than they should for their age. The 2003 SmackDown Cruiserweight Division is alive and well.
AJPW World Tag-Team Championship (Vacant): KAI & Naoya Nomura vs. Strong BJ (Daisuke Sekimoto & Yuji Okabayashi) [BJW]
Jake Lee and Naoya Nomura defeated The Big Guns last month to win the titles, and got a bit ballsy as they called out former champs and all-around 'guys you don't want to fuck with' Strong BJ. Unfortunately, Jake Lee suffered a knee injury and was forced to vacate. With a spot now open, the geeky but decorated KAI started pleading with the company to let him fill Lee's spot as he was in a similar situation earlier in the year when he and Kengo Mashimo won the Tag Titles but Mashimo blew out his knee, putting a sudden end to their team. AJPW granted him the opportunity, and with the more experienced KAI taking Jake Lee's place, Nomura has a chance to not die as fast.
Grudge Match: Suwama vs. Satoshi Kojima [NJPW]
A grudge match from hell. In 2010, Satoshi Kojima shocked everyone in dropping the Triple Crown title to rookie Ryoto Hama and jumping ship to New Japan. While the common story is that AJPW let his contract lapse because the leadership at the time did not want to pay him while he was going to be out with an injured arm, the rumor that has persisted is that then-Ace Kojima's Triple Crown reign was leading to him putting Suwama over, and passing the torch to the new Ace, only that Kojima refused to do the job and put Suwama over, and opted to lose to the former Sumo instead then leave the promotion high and dry. Suwama had some nasty things to say in the press at the time, saying he would never leave AJPW and would beat the hell out of Kojima if he ever stepped foot in the company again. Fast forward seven years, as New Japan and All Japan's relationship is seemingly growing, Kojima is back in AJPW against the person he supposedly refused to put over. This will be a nasty big boy brawl.
Triple Crown Championship: Shuji Ishikawa © vs. Kento Miyahara
After a 464 day reign as champion which saw large business increase and breathed fresh air into the once-dying promotion, AJPW Ace Kento Miyahara's first reign as Triple Crown Champion came to an end after losing to former BJW/DDT champion and main eventer Shuji Ishikawa. Ishikawa would get his first shot at the Triple Crown by winning AJPW's Champion Carnival tournament in April, with a 4-1-1 record going into the Finals. Ishikawa and Miyahara would clash in late May. Miyahara survived everything The Big Dog threw at him, but was put away with Shuji's new finisher dubbed the "Miyahara Killer". Ishikawa would next defeat Miyahara's stablemate Jake Lee and old Ace Suwama, and Miyahara would have to go through Joe Doering to get this opportunity for a rematch. The story seemingly writes itself, the spunky young Ace trying to get reclaim his company's title back from the villainous outsider, but that's not exactly been the case. Ishikawa, though an outsider who just started working full-time, has worn the title with pride, played fair, and went as far as changing his attire to Jumbo Tsuruta-inspired gear to show how much the title and this company means to him. He has pledged his allegiance to AJPW. Miyahara on the other hand became more vicious and arrogant the longer his reign went on, and has shown he's willing to play dirty to try to win a match after losing the title. Both guys have brawled heavily and traded wins on the tour leading up to this show, so who wins and where this goes from here is anyone's guess. Two stiff, prideful bastards and great wrestlers going all-out in AJPW's biggest match of the year. An absolute treat.
6 WEEKS